A quick recommendation for you:  Cool Text is a nice little web tool that you can use to create buttons for your site.  Its only real downside is that it has 1200 fonts available, many of which are awful; you can spend a lot of time picking one out.  Once you get past that, however, you can use it to produce just about any button art you might need.

I used Cool Text to make some buttons for the "home" view of my puzzle gadget, and I think it looks a lot friendlier as a result: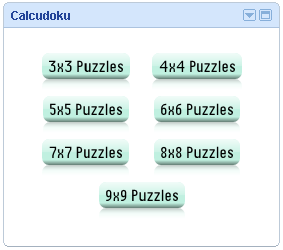 Future Work
I spent today working on some minor UI enhancements for the gadget and wrestling with IE6, in which the gadget seems to work only intermittently. Once I complete that work, I'll return to the projects I mentioned on Friday:
Look into making the gadget easier for people to find
Add social features to gadget

load/save ?
sharing ?
collaboration ?

Better aStore placement
Puzzle forum postings
Yesterday's Stats
| Stat | 24th | 25th | 26th |
| --- | --- | --- | --- |
| Visitors | 33 | 42 | 42 |
| Visits | 43 | 52 | 51 |
| Pageviews | 177 | 198 | 371 |
| Pages/Visit | 4.12 | 3.81 | 7.27 |
| Avg. Time on Site | 9:47 | 5:57 | 18:38 |
These data correspond to an ad campaign with a higher-budget, lower-CPC bid approach. Traffic seems to have roughly doubled from a week ago, when I was taking a low-budget, high-CPC approach.
I have peeked at the (incomplete) data for today, and it's got a bit of a spike to it. That makes it tempting to continue the ad campaign to see what happens. Unfortunately, it seems that would simply be throwing good money after bad (if you ignore the pedagogical value of the enterprise). Therefore, I am terminating the ad campaign, and we'll see what happens to traffic in its absence.
Follow Along
You can subscribe to my RSS feed, if you'd like to follow along with this month's project, in which I attempt to create and popularize a puzzle site.