Editorial Note: In April, I took a month off in Medellin. For me, this meant an interesting and diverting month. For you, this means 30 days of posts about my vacation. I'll try to make them somewhat amusing.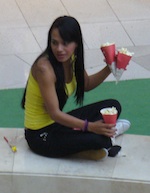 No account of a trip to Colombia would be complete without at least a brief note on the subject of Colombianas. There are 4 countries in Latin America which enjoy a reputation for women of unusual beauty: Colombia, Venezuela, Brazil, and Argentina. (B-girls may be getting by, to a large extent, on personality.)
Colombianas are, of course, normally distributed along the axis of beauty, but that distribution does seem shifted in the direction of greater pulchritude by about 10%. More significantly, Colombianas seem to really enjoy being women, and that counts for a lot.