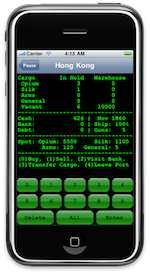 Guess who just got their new game approved and placed in the app store? That's right: It's me.
If you'd like your shiny new iPhone to do a credible imitation of a 28 year old Apple ][, then you should totally go to the iTunes store and download my port of Taipan! right this very instant. Right now! Don't wait one minute more!
Seriously, why are you still here?
Kidding aside, I'm pretty proud of this port. I've always had a deep fondness for this game, and this port is extraordinarily faithful to the original game balance. Plus, I made every effort to optimize the interface for ease-of-use on a handheld. It's simple, fun, and addictive. And you should download it. And leave a good review. And buy the unlock.